Love of the Craft
Before devoting full time to creating unique and aesthetic functional crafts and works of art, Lesley Magaril Delia, the artisan behind "Down the Road Designs", practiced law for over 35 years as a staff attorney and ultimately as the Executive Director of a Statewide public interest legal services program serving individuals struggling with mental health challenges.
She took her first painting class at the Art League of Long Island in the mid-1980s and subsequently studied painting privately with a local artist. During those years she reminded herself often that "down the road" she could someday retire and paint full time, satisfied that on her journey she had had used the power of the law to help make the world a better place. One day during these busy years juggling family and career, she became fascinated watching an accomplished polymer clay artist create a polymer clay cane. She left her friend's studio that day with some spare clay and tools and started to experiment with polymer. She was immediately seduced by this remarkable, versatile medium and set to work to understand its behavior and all of its unique properties.
Lesley retired from the practice of law in 2014 and is finally "down the road". She refers to her current work as "claynting" … painting with polymer clay.
Since 2015 she has been giving private lessons and leading workshops and classes to introduce others to this remarkable modern artists' medium.
Lesley is a member of the International Polymer Clay Association, the Art League of Long Island, the Long Island Craft Guild and the BJ Spoke Gallery in Huntington , NY and exhibits and sells her work in their shows and galleries. She lives with her husband in Huntington, New York.
She has recently won several awards, including 3rd Place , International Polymer Clay Association 2021 show and Honorable Mention Art League of Long Island 2022 juried show.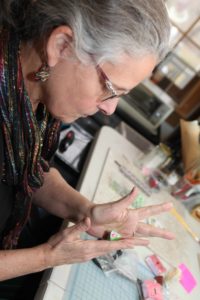 Do a Good Deed
The first $1,000 of sales each year are donated to "A is for Africa", a 501 (c)(3) supporting education in a small Massai village in Tanzania where she has volunteered time with her husband, teaching computers skills to teachers. When you buy a piece from Down the Road Designs you are helping to provide school lunches and school supplies to eager students.
Explore the success of "A is for Africa http://www.aisforafrica.org/
In the News: As featured in Passion for Polymer magazine – May 2021